Mini-Grants 2023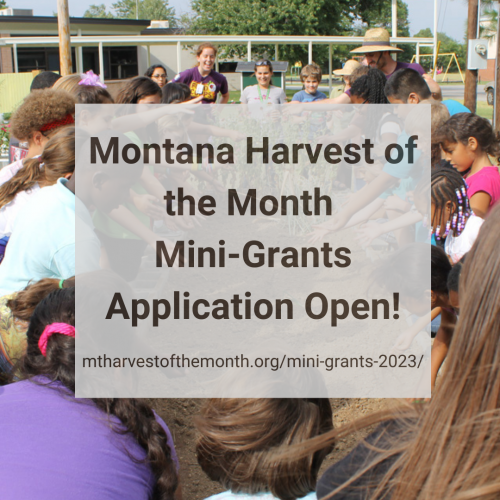 Application Open
The National Center for Appropriate Technology is pleased to provide this mini-grant opportunity to Montana Harvest of the Month (HOM) participants. Nine $1000 mini–grants will be distributed in April 2023 to HOM participants to fund HOM projects that involve family engagement and/or youth in leadership roles.
The mini-grants are funded with support from Whole Foods Market in Bozeman.
Sites must apply electronically at: https://montana.qualtrics.com/jfe/form/SV_4Ub67XNjjqTePmm
Check here for a printable version of application
The submission deadline is March 31, 2023 (11:59 pm MST).
Questions & Clarification: Molly Kirkham | (406) 494-8672 | mollyk@ncat.org
 Purpose
Provide a financial incentive and additional technical assistance to sites participating in HOM.

Fund projects that encourage family engagement and/or youth leadership in HOM activities.

Obtain feedback from sites on the benefits, challenges, and opportunities associated with participation in HOM.
What Will Mini-grantees Receive?
Financial incentive to support HOM activities ($1000/site)

Technical assistance to expand HOM implementation
Eligible Entities
Eligible entities are split into five categories based on the HOM audience groups. Please reach out if your establishment is not listed here and you are interested in applying.
K-12: K-12 schools, afterschool programs, And summer food service programs
Early Care and Education: Preschool, day-care providers, family care, camps
Business and Community: Colleges and universities, groceries, farmers markets, restaurants, cafes, bakeries, food pantries, community centers, fitness and wellness centers, youth homes, shelters
Healthcare: Hospitals, treatment centers, rehabilitation centers, nursing homes
Producers: Growers, processors, distributors
Mini-Grantee Requirements
Sites must be registered for the HOM program and have completed the baseline survey prior to the submission deadline. The applicant must assemble a team and meet all regular HOM program requirements. Program requirements differ for each audience group. Registration, reporting links, and HOM program requirements can be found at Montana Harvest of the Month (mtharvestofthemonth.org).

The HOM Team will establish a meeting schedule that consists of at least 3 meetings in the grant period. The meetings are designed to strengthen collaboration and plan for or check progress and response to HOM activities.

Grantees must submit content, such as photos, videos, and descriptions of their activities showcasing at least 2 of the HOM foods. The content should come with photo releases. This could include taste tests, meals, activities, material displays, cooking classes, field trips, presentations, and other creative activities grantees come up with. The NCAT project coordinator may use these submissions in the HOM portal, newsletter, and Facebook page.

Grantee projects will involve family engagement and/or youth in leadership roles.

Grantees must attend a virtual training in April 2023 before the grant period begins and complete a verbal progress check-in during the grant period. 

Grantees must keep track of the number of adults and youth who participate in mini-grant activities.

All funds must be spent by October 1, 2023 to support activities in this proposal and within the grant guidelines.

A final report must be completed and submitted by October 31, 2023.

The timeline for grant activities: April 13, 2023 until October 1, 2023