Grains in Gallatin Valley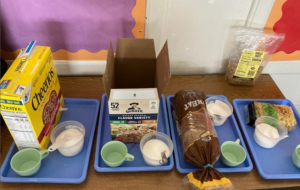 A Day in the Life of a Farm to School Educator 🥕🌾
Lesson scheduling, planning, prepping, teaching, dishes, data collection, rinse, repeat 🌀
All month long our educators are talking about #MTGrains in classrooms around #GallatinValley. Our lessons highlight how these foods are grown, why they're healthy for our bodies, and how to prepare them into tasty meals!
In today's 5th grade lesson we explored nutrition labels & advertisements in food. Do the colorful labels and catchy slogans like "100% Whole Grain!" mean the food is healthy for our bodies?
In this lesson we try to emphasize moderation – foods aren't "good" or "bad," but the way we eat them as part of a balanced diet can contribute to a healthier life.
We love getting to share local food love with our students ❤️🥕🌾
Source: Gallatin Valley Farm To School (@gvfarmtoschool) • Instagram photos and videos